October 2, 2017
---
What's up guys?!
Some of you might not be aware, but recently Facepunch announced officially they're going to be working on and hopefully releasing Garry's Mod 2.
Now – before you go telling other people this, keep in mind they don't want people calling it Garry's Mod 2, as it isn't really Garry's Mod. It's an entirely new game, built on a new engine (Unreal Engine 4), with an entirely fresh and new modding API.
They're calling it "S&box" right now, otherwise known as "sandbox". It could be renamed later on, but I doubt it – as this is fundamentally probably going to be the biggest Sandbox game when they release it, expected to eventually take over even Garry's Mod's peak-players. Personally, I think naming it "S&box" will just cause it to be either called "sandbox", or "s&box" depending who you talk to, and it would be better to just focus on a single solid name – but whatever, no biggie.
There are some big changes that you need to keep in mind though, like the fact you will not be able to use your current Garry's Mod addons on the new game, because the new addons all have to be made in C# using their new modding API's. For the developers out there, you'll be pleased to know they've got a live-lua type system called HotLoad in which any C# in addons will be automatically reloaded as the code is updated in the files.
Some other big things to note are a new approach to the game console. As detailed in this blog post on their website, the new console will be web-based.
Here is a sneak peak of their functional prototype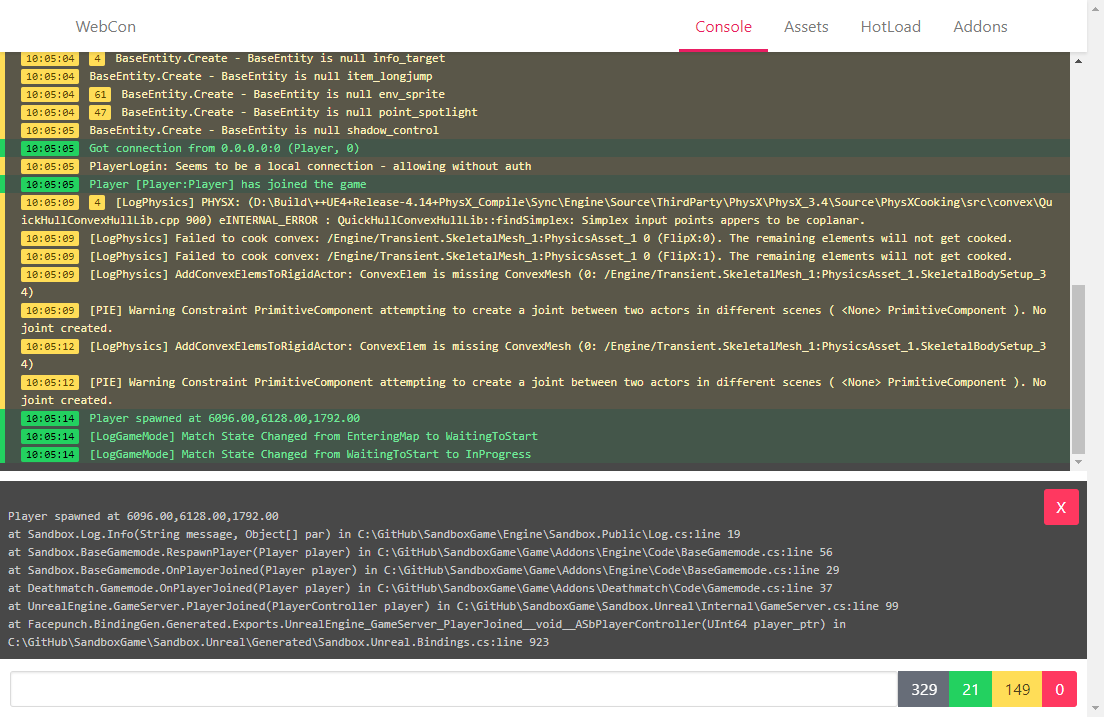 It looks pretty neat, and includes all the logging you could want, with full stack traces on errors to help in debugging issues. This new console will be much more superior to the current implementation of consoles in most games, but that's not it. The web console also has other fancy features planned.
One such feature is a page to overview the Assets the game has loaded. This would be really useful to keep content minimal, and prevent people packaging and distributing addons with un-needed assets.
Like everything else in the game, the UI is also up to be re-imagined from the ground up. It looks like they're focusing on two main methods of UI design which mods will be able to utilise. One is HTML based, which is a welcome, easy to use, popular and flexible system they've already got in Garry's Mod. With Sandbox, however – it'll suck a lot less "ass" to use their phraseology.
The other method of UI design, which would be popular for things like HUD design seems to be using a JavaScript Framework called Vue. Here is what could be their new default HUD (which is clearly "inspired" from the HL2 Garry's Mod uses)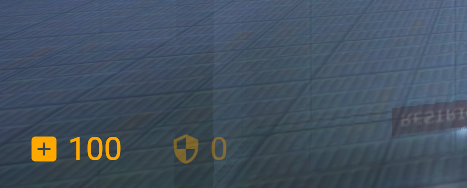 Sadly, not everything is good news here. Chances are S&box (or sandbox?) wont be out for a long time probably. Expect it in a year, or maybe two. I'm optimistic it could come out sooner, but I'm just as realistic in that it probably wont be ready for a while. You can keep up with what they're doing by checking out the commits page on their website here: https://sandbox.facepunch.com/commits/
As a footnote, when the game is out – you'll be able to assume the same quality servers you're used to from us here. Right now we can't give prices or expected player-slot estimates, but we'll keep you updated as we get more information!
Looking for addons for your server? Check out Crident Store: https://crident.store